Head Start Alumni and Outstanding Community Service scholarship winners announced
In partnership with the Head Start Alumni Scholarship—Community Action Council awarded four scholarships for the upcoming 2022-2023 academic year to four Head Start alumni. These deserving students participated in an accredited Head Start program before Kindergarten and were each accepted into a two or four-year college or university.
The 2022 winners of the Head Start Alumni Scholarship are:
• Matthew Turley – Bourbon County High School
• Jurnee Smith – Bryan Station High School
• Brent Edington – Frederick Douglass High School
• Hannah Edwards-Crump – Bourbon County High School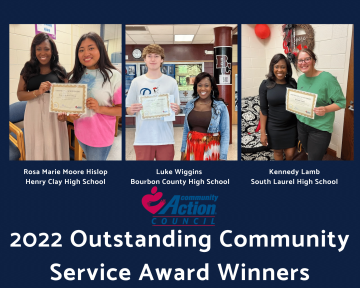 These outstanding graduating seniors were awarded for making a difference in their communities by volunteering, combined hundreds of hours of community service.
The 2022 winners of the Outstanding Community Service Award are:
• Rosa Marie Moore Hislop – Henry Clay High School
• Luke Wiggins – Bourbon County High School
• Kennedy Lamb – South Laurel High School
For 57 years, Head Start has remained a leader in providing comprehensive education, health, nutrition, and parent involvement services to children from families with low income throughout the United States. Community Action Council offers high-quality early childhood education at our Prep Academies located throughout 13 counties and through partnerships with school systems and community-based early childhood providers.