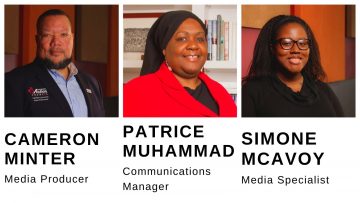 Community Action Council (the Council) is pleased to announce the launch of a new digital media division and new hires within the Office of Sustainability under Director Melissa Tibbs. Patrice Muhammad, a veteran print and radio journalist, has joined the Council as the new Communications Manager, long-time Communications Manager Cameron Minter has transitioned to the role of Media Producer and Simone McAvoy will serve in the newly created role of Media Specialist.
"After the extraordinary challenges we have faced over the last two years, I am delighted that my team is growing and expanding our agency's capacity to engage with community members. It's never been more important for our neighbors to know the value of Community Action Council's mission, programs, and outcomes," said Melissa Tibbs, director of the Office of Sustainability.
Prior to joining the anti-poverty organization, Patrice co-founded and published The Key Newsjournal, Central Kentucky's Black newspaper, for 16 years and produced Key Conversations, a weekly local talk-radio program which aired on public and commercial radio for 16 years ending in 2021. Patrice earned a B.A. in Communications and Journalism from Kentucky State University.
"I had the opportunity to meet and get to know Patrice in 2020 when we both served on the Mayor's Commission for Racial Justice and Equality," said Sharon Price, executive director of the Council. "Her experience as a journalist and passionate community advocate will be an asset to our agency as we work to tell the story of how our programs are making a difference for children, families, and our communities."
Cameron Minter, the previous Communications Manager, has a new role as Media Producer. As Media Producer Cameron has the primary responsibility of directing and recording all video and audio projects for the Council. For 15 years, Cameron has been the communications contact for the Council and is credited with creating the Council's podcast Lex Talk, More Action. He was also instrumental in creating the new audio and video studio which allowed the Council to more efficiently pivot to providing virtual learning options for its Head Start students during the pandemic and also offered a way to safely engage with participants and the community on issues that matter.  Cameron earned a B.A. in Business Management from Kentucky State University and is a Certified Community Action Professional.
Simone McAvoy serves as the new Media Specialist. In this role McAvoy creates original promotional and educational content for the nonprofit. Consumer education, early childhood education and staff training videos are among the many projects Simone and Cameron will oversee. Prior to joining the Council, Simone was a video editor at WTVQ, an ABC affiliate. She earned her B.S. in Mass Communications from Jackson State University and her M.A. as a Communications Specialist with a concentration in business from Alabama A&M University.
Community Action Council is one of the largest nonprofit organizations in Central Kentucky. It works extensively throughout the counties of Lexington-Fayette, Bourbon, Harrison, and Nicholas to address the causes and conditions of poverty and operates Head Start in a total of 15 counties. The Council creates opportunities for individuals and families to achieve self-sufficiency.
For more information about Community Action Council or its services, visit commaction.org or call (859) 233-4600.